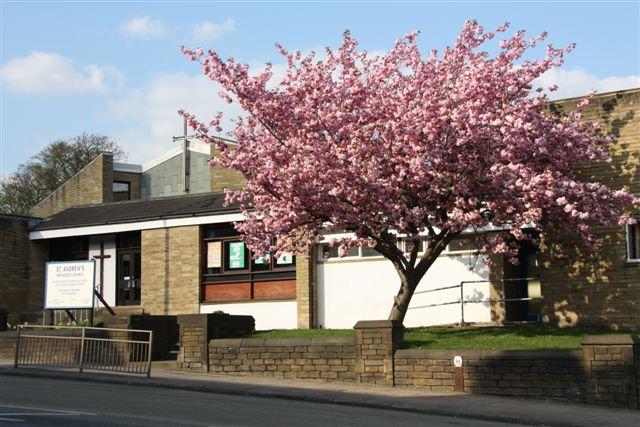 Welcome to
St.Andrew's
Methodist Church,
Halifax,
West Yorkshire.
Our Mission
St Andrew's Methodist Church seeks to share the love of God as revealed by Christ, through the Holy Spirit.
Our Purpose
We are a witnessing community of Christians seeking to share our faith. By our worship and work we proclaim the love of Jesus to all people.
Please ignore this next section until the beginning of December when it will be updated
WORSHIP HAS RETURNED TO ST. ANDREW'S CHURCH
It will be held under Covid-19 regulations and it will be very different, so please read the following carefully:
The total number who attend is strictly limited to 30. All MUST wear face coverings throughout the Service and BE PREPARED TO FOLLOW THE BEHAVIOURS ASKED OF THEM BELOW, TO PROTECT OTHERS. Places will be booked via telephone on a dedicated phone number 07716765168 - which will be activated from 9.00 a.m. until 1.00 p.m. on the Thursday and Friday before the Sunday. Those phoning will be advised of the needs for attending and will be re required to leave their name and contact number (with Hazel or Leah) to create the required Track and Trace Register of attendees. This register of details will be kept for 21 days only, after any service.
Those advised of having a place should arrive no sooner than ten minutes before the service begins and wait in their cars or at social distance markers within the car park, until invited into the church by the Steward. Entrance will be via the Side-chapel side door only and doors will be open.
Persons will be asked to hand-sanitise before the steward will direct them to a seat filling the seats available from the FRONT FIRST, family groups may move a seat to sit together as supervised by steward. The service will not include any singing but prayers can be said, however persons are asked to keep face coverings on and remain in their seat until after the service ends.
Once the service has ended a steward will invite persons to leave FIRST from the REAR of the church and to do so promptly, without social interaction within the building. It will NOT be possible to have any refreshments after the service.+++
This sounds a little austere but we are hoping to have live music even if we cannot sing 😊 and look forwards to a shared, face to face, group worship experience. Other practical points are that we have moved our usual seating aside to allow use of the plastic chairs, for ease of cleaning and moving chairs, and the only toilet access will be via the ministers vestry (look to stewards for guidance). No pew bibles or hymn books will be available but you are welcome to bring and use your own. We plan that each service may last not more than 35 minutes and we will not be using the link corridor, coffee bar nor church hall toilets.
As you can appreciate, details may change and whilst we will aim to update all as soon as we are aware, please bear with us as we move to adapt to the needs of these unusual times. Your prayers for all involved with St Andrew's - congregation and wider church links, are very much appreciated… Hazel & Leah.
SUNDAY NOVEMBER 22nd 2020
TODAYS SERVICE HAS BEEN PREPARED AND IS BEING LED BY
THE REVD TERRY KEEN
Today we are invited into Terry's Service prepared for the Boothtown and Southowram Methodist Church family and we thank them for allowing us to share in this Service with them via the wonders of Zoom
PRAYER
We worship you, O God, with joyful noise - with words of praise and adoration spoken and sung in the name of Jesus who brought your love song to us in person. In harmony with you, he puts new words in our mouths and new intentions in our hearts, especially a new understanding of power. Power shaped by love and righteousness, justice and mercy. We now know that power is not to be used to exploit or dominate, but to serve others as willingly as Jesus did. His life and death demonstrated how the love of power could be transformed by the power of love. We gather here today to celebrate your rule of love in our hearts as we experience it in Jesus and through the enabling gift of your Spirit. This we pray in the name of Jesus, our Servant King. Amen
HYMN: Meekness and majesty (StF 362)
BIBLE READING: Matthew 25: 31-46
MEDITATION: No ordinary man: No 92.
SERMON
A personal story.
I had just received an emotional phone call from a very distressed woman. Her father, Charlie, who was a church member and now in a care home, was close to death and she wanted me to go and be with him. As Linda and I entered the room she was clearly distressed at the state of Charlie's very laboured breathing.
I sat at the side of his bed and took hold of his hand. It was cold and a bit clammy. I chatted with him but got no response, not even a flicker of his eyelids. I got out the Methodist Worship Book and turned to the section called Prayers with the dying and began to read the words. I wasn't really taking much notice of what I was saying as the rasping of Charlie's breathing was quite distracting.
After a few words of prayer, the text for Psalm 23 is printed. I started to read the very familiar words and I sensed the atmosphere in the room changing and Charlie's breathing seemed to calm ever so slightly. The three of us looked at each other as we sensed the room began to fill with a definite sense of peace that was almost tangible.
I continued to read the words and finally came to the Lord's prayer. Once again, the familiar words seemed to reach deep inside to the Charlie we had all known and give him peace and calm. By now Charlie's breathing was almost normal but weak. The service continues with the following words:
Go forth upon your journey, Christian soul, in the name of God the Father who created you; in the name of Jesus Christ who suffered for you; in the name of the Holy Spirit who strengthens you; in communion with the blessèd saints, with angels and archangels and with all the heavenly host. May you rest in peace and may the City of God be your eternal dwelling. Amen.
Within a few minutes of giving Charlie permission to go he had done so. His daughter was no longer distressed and she looked at me and said, "If that's what dying is like, I can't wait!"
We sat with Charlie for some time just chatting about him. As I did so I had a sense of being in the presence of God. Nothing had happened that I could point to. There seemed nothing objective to support my feeling. It just seemed so right to be there to give Charlie permission to go. God seemed present, more real to me than ever in Church building.
I have long taken comfort and challenge from the words of Jesus in Matthew 25 that was read earlier that begin with "When I was hungry, you gave me food...".

The passage seems to speak of and for those who are voiceless. The words of Jesus could have carried on to encompass the homeless, the addicted, and the despairing … and, "I could not speak, and you gave me back my words"; or, "I was unheard, and you attended to me".

I have always been impressed that the words are not "It is as if I were hungry", or "I was alongside the hungry", but "I was...."

This incarnation-God makes his home with the powerless in a way that has no parallel, and which I can neither comprehend nor divide. I can only sit and listen to Charlie's breathing as he soaked up the presence of God welcoming him home through his son, Jesus Christ, as we are told in John 14.

I have long realised that I do not bring God into any situation where I meet people who are in need.

My picture of God has changed during the past twenty years or so of ministry. I am not sure I am now content with the picture of a God who "intervenes". It seems not to be his choice, and maybe he does not need to do so, because in suffering love he is present always.

This does not mean that weakness, illness, and dying confront us with the absence of "miracle".

So how did I pray in that room once Charlie had gone? Words no longer seem either adequate or needed. There is no language that can enrich the waiting, and the silence. All I could do was to soak up the atmosphere in the room, the taking in the peace and strength offered to those who mourn for one now on a journey home.
PRAYERS OF INTERCESSION
THE LORD'S PRAYER
HYMN: Brother, sister, let me serve you (StF 611)
BLESSING
Go into this week, robed with the righteousness of God blessed with the insight of Jesus Christ gifted with the discernment of the Holy Spirit. AMEN.
******************************************************************************
St Andrew's Autumn Quiz
Seen on a Canal Walk
compiled by Avril Corbett
Silent royal bird (4,4) ____________________mute swan________________

Slender mode of transport (10)_______________narrowboat_______________

Could be a sign of your progress (9) __________milestone________________

In midsummer Bergerac detects a sting(7) ______nettles__________________

You may see a magistrate resting here (5) ______bench___________________

Crazy shrike often seen wandering the path (6) __hikers___________________

Canoe is circling back and forth (5) ___________kayak___________________

It runs along the canal, but doesn't move (7) ____towpath_________________

Stewed Serb lamb makes a delicious jelly (8) _____brambles________________

Visitor has flown across the pond, perhaps? (6, 5) Canada goose____________

A dismal rodent with a head for heights (4, 8) ____grey squirrel_____________

Take this group of puppies home with you! (6) __litter____________________

As the leader, he enjoyed reading our newspaper stories (6) ____herons________

Confusing room sign, shows where we should stay (8) …..moorings……………..

Dutch survivor is found in Helmsley (3) _____________elm________________

Draco, shimmering and hovering on sunny days (9) _____dragonfly___________

We'll deal with this donkey when we get there (6) ______bridge_______________

It lurches clumsily along the canal (5)_______________barge_________________

Yorkshire sculptor scatters grain to find a bird (7) ______moorhen______________

Chap with rod, ducking and diving (7) _______________pochard______________

Chap with rod, sitting at 90 degrees (6) ______________angler________________

A duck steams ahead at record speed (7) _____________mallard_______________

Stan was in a fine mess in the bush without Ollie (6) ___laurel________________

Feral plant was prickly and sore about climbing the wall (4,4) ___wild rose_______

You may want to leg it through here (6) _____________tunnel________________

Low flying swimmer begins and ends majestically (10) __kingfisher_____________

You need a key to keep your head at this gate (10,4) _____guillotine lock_________

Our national emblem representing strength and endurance (3) _oak_______________

You wouldn't mix a cake in this one (5,5) _______________canal basin__________
30. A generic watering hole at the end of your walk (6,5) _____public house_________
Thanks to all those who supported our rebuilding fund by participating.
The winner was Mrs.Rosemary Pickles who kindly gave her prize money back to the fund