Welcome to St Andrews Methodist Church Halifax

Our Mission
St Andrew's Methodist Church seeks to share the love of God as revealed by Christ, through the Holy Spirit.

Our Purpose
We are a witnessing community of Christians seeking to share our faith. By our worship and work we proclaim the love of Jesus to all people.
---
Hello to everyone connected with the Church Family at St Andrew's Methodist Church – do hope and pray that you are all keeping safe and well. St Andrew's Church Building is open for limited business. We have a service every Sunday morning at 10.30 at which we can have 50 worshippers. Masks are worn, but hymns are sung behind masks and for the last hymn we remove masks and have a jolly good sing! It is no longer necessary to book a place, so please feel free to just turn up.
We also broadcast the service on Zoom. If you wish to join the service on Zoom the joining details are as follows:
ID: 890 1387 0128
Passcode: 1234
However we worship due to the Coronavirus, we are sure in the knowledge that we will all be joined together through the ongoing love of our Lord and Saviour Jesus Christ.
---
A very warm welcome is extended to you and we do hope that you are still keeping well and continuing to keep safe during the Covid-19 pandemic. We still continue to put our trust in the loving Lord Jesus Christ to comfort, guide and care for us as we approach the end of 2021. We continue to exhibit the picture depicting our 'Candles of Hope' in the Quiet Room Window reminding us that our hope for the future is in the hands of our loving Lord Jesus Christ and we look to Him for our comfort and guidance.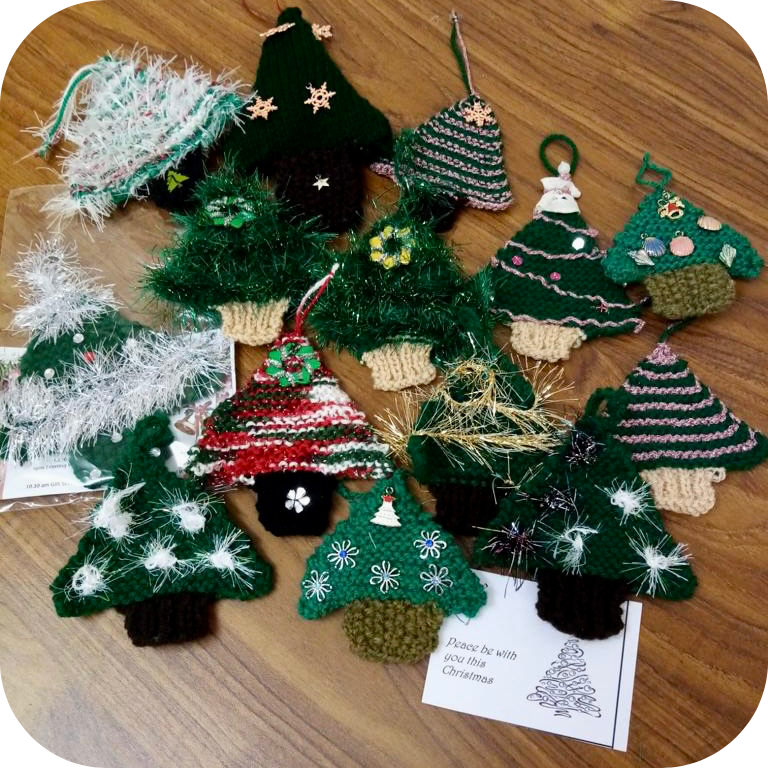 [Above] These are some of the knitted Christmas
trees we are handing out to children connected with St Andrews.
---
How to find us and contact us
St Andrew's is on Huddersfield Road, Halifax. Our church is diagonally across the junction from Calderdale Royal Hospital.
Our postal address is Stafford Square, HX3 0AT.
To contact us please use the 'Contact Us' page.