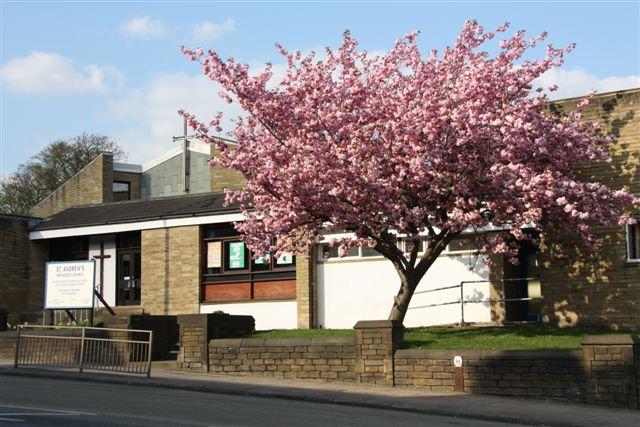 Welcome to
St.Andrew's
Methodist Church,
Halifax,
West Yorkshire.
Our Mission
St Andrew's Methodist Church seeks to share the love of God as revealed by Christ, through the Holy Spirit.
Our Purpose
We are a witnessing community of Christians seeking to share our faith. By our worship and work we proclaim the love of Jesus to all people.
---------------------------------------------------
Hello to everyone connected with the Church Family at St Andrew's Methodist Church – do hope and pray that you are all keeping safe and well. As St Andrew's Church Building is once again closed for the duration of this current lockdown please will you take some time on Sunday Morning around 10.30 a.m. to read through this Service – it will help to bring those who are able to Zoom the Service and those who are reading through the Service at home all closer together even though we are apart and scattered all around Calderdale during this time of isolation due to the Coronavirus – we are sure in the knowledge that we will all be joined together through the ongoing love of our Lord and Saviour Jesus Christ.
A VERY WARM WELCOME is extended to you and we do hope that you are still keeping well and continuing to keep safe during the Covid-19 pandemic and 'National Lockdown'. BUT even through lockdown we still continue to put our trust in the loving Lord Jesus Christ to comfort, guide and care for us as we move further into the year 2021. We continue to exhibit the picture depicting our 'Candles of Hope' in the Quiet Room Window which continues to remind us that our hope for the future is in the hands of our loving Lord Jesus Christ and we look to Him for our comfort and guidance.
..........................................................................
Today our service is being led by Rev Terry Keen. We look forward to what he will be sharing with us this morning.
CALL TO WORSHIP:
The days are surely coming, says the Lord, when I will make a new covenant...it will not be like the old covenant, written on stone. This will be a radically new covenant, my laws will be within you, written on hearts. And God added these wonderful words - I am your God and you are my people. Imprint these words anew on our hearts, O God, so that we know you in all your fullness, love you as you love us, and worship you as you deserve. Let us worship God.

HYMN: I will offer up my life (StF 446)
PRAYER OF PRAISE
Lord, we praise you for the way you made yourself and your love known to us in Jesus; for the gentleness of Christ which still brings us your mercy; for the way his readiness to reach out and touch the lives of others reassures us of your presence and power. We praise you for your commitment to work for our good which we witnessed in his utter determination to make people's lives whole. Father, we praise you for your free grace which found its echo in Christ's acceptance of every person who turned to him for forgiveness and healing; for your anger with everything that spoils life and robs us of the joy you meant the gift of life to be. Lord, we praise you for your undiluted purpose for your people, your never-ending grace for all humanity; for your triumphant love which was given its fullest demonstration in Christ's dying and rising for us. We praise you for that love which still flows from the empty cross and the empty tomb to bring us hope and healing and wholeness today. In the name of Christ who makes us whole. Amen.
PRAYER OF CONFESSION
Have mercy on us, God of steadfast love, according to your abundant mercy blot out all our wrongdoings. Cleanse us thoroughly from all our sins.
We know all too well, when we do sin, that we do it against you, O God. When we do evil in your sight, O God, you are justified in your judgment of our misdeeds. You desire truth in all we think, and do and say; therefore etch your wisdom on the innermost places of our hearts. Wash and scrub our sins away until we are free from imperfection.
(Silent confession)
Create in us clean hearts, O God, and put new and right spirits within us. Do not cast us from your presence and do not take your Holy Spirit from us. Restore to us the joy of your salvation, and sustain in us a willing spirit so that we can respond joyfully to your intention for our lives. In Jesus' name we pray. Amen.
INTRODUCTION TO SERMON
Heading towards Jerusalem - an incredible risky thing for Jesus to do, and in the eyes of his disciples, it must have seemed as the height of foolishness.
Was Jesus tempted with every step to turn back? Was he ever tempted to believe, like the servant described by Isaiah, that he had laboured in vain, that he had spent himself for nothing?
His humanity surely points to him experiencing deep feelings of agony and anguish, but his confidence in the faithfulness and empowerment of God exceeded his human limitations. Like the psalmist, it is through his hope and trust in God that he finds the strength he needs.
BIBLE READING: John 12: 20-33
SERMON
What have you always wanted to see?
In our gospel reading today some Greeks come to Philip, probably because Philip is a Greek name, even though he is Jewish, and they ask to meet or to see Jesus.
Look at verse 23 and Jesus' reply to this request. Some men have obviously travelled a great distance to speak with him and he says 'now is the hour come.' What was Jesus speaking about here?
Verse 24 using the analogy of a grain of wheat Jesus speaks about death and about life coming out of and from death.
Verses 25-26 Jesus moves then to speak about what his disciples, and all those who would follow him, must do. He basically says they must die to self in order to gain life, eternal life.
Verses 27-30 Jesus now goes on to speak of the anguish of his soul at the prospect of death. Here is the battle which has raged in the heart and soul of the saviour from the moment of his birth. Here is the battle which Satan tempted him with in the wilderness – to go another way other than the cross.
Verses 31-33 now Jesus explains what he means by the hour has come. John says in verse 33 that Jesus said these words to explain that he would die by crucifixion. Jesus says to the disciples 'I am going to be lifted up'. Now when we read that we think of crucifixion but it meant much more than that.
Verse 32 the cross which would appear to all and sundry as his defeat, as his death would in fact be the very gateway to life and eternity for mankind. Sin sends Christ Jesus to the cross and yet by the cross sin is defeated. My sin crucifies him and by his death which I cause he wins me from sin. Here is the centre of all history. Here is the meaning of life. The cross is the pivotal moment of eternity.
You see, the prince of this world is motivated by self-will and his power brings only destruction and death. Yet Christ Jesus by his death on the cross obeyed and fulfilled the will of the Father and his death imparted renewal and eternal life to all who come to him. The glory of salvation is fully displayed in the shame of the cross.
Christ did not come to give us a knowledge of God – even though there is nothing better than knowing God.
Christ did not come to bring us a new experience of God – though there is nothing more life changing than meeting God.
Christ did not come to exhort us to do good works even though he said we would be known by our works.
You see knowledge comes to us in words and he was the Word made flesh. Feelings and experiences are temporary. Yet Jesus said he came to give us life.
Christianity is unique because it is not rooted in a set of ideals, nor a set of experiences, nor in a way of living but it is rooted in a person Jesus Christ and a personal relationship with Jesus Christ.
Jesus said the hour has come and he goes to the Cross to pay for your sin and my sin. We put him there, but he goes willingly and voluntarily because it is the Father's will and he loves us unconditionally.

HYMN: Father, hear the prayer we offer (StF 518)
PRAYERS OF INTERCESSION
Think of someone whose whole life has been damaged by the words and deeds of someone else; someone who is filled with resentment because of what they have suffered; someone who suffers still, through no fault of their own. (Silence) May the hope of God be with them now.
Think of someone whose whole life has been changed by war; someone who has been taught to hate others not the same as themselves; someone whose attitudes and values are crippling life for themselves and those around them. (Silence) May Christ be their peace.
Think of someone who has been dominated by others, made to feel as if they did not count; someone made to feel unworthy, unloved or unvalued; someone trying to relearn the meaning and value they have as a person. (Silence) May the affirming love of Christ be their teacher and friend.
Think of someone who always felt they knew what life was about; someone for whom work, relationships and the future seemed so secure; someone who now feels rejected, unwanted, unnecessary and afraid; someone who is finding each day hard to fill. (Silence) May the strength of God hold them.
Think of someone who was always fit and well but is now facing a terminal illness; someone caring for those they love; someone with a past that now haunts them, an uncertain future and a today they can't face. (Silence) May the mercy of God enter into their fear.
Think of someone whose suffering is unseen and unknown to others; someone who has been so deeply hurt they simply cannot share it; someone whose tears are deep inside; someone who has been let down and left alone; someone filled with a grief that is too much to bear. (Silence) May the pierced hands of Christ hold them now.
Think of someone who is imprisoned for their faith or for standing up for what they know is the truth; someone locked in by their disability and a society that is blind to their needs; someone locked out by their lack of education or caught in the poverty trap. (Silence) May Christ be the key to their being set free.
Think of someone who is facing the cost of wrong decisions; someone aware of a real sense of failure; someone finding it hard being taken for granted; someone who never receives thanks for their care and service; someone tired of living with despair and walking in darkness. (Silence) May the sweet voice of Christ encourage them now.
Think of yourself— of the hurt that is in your own heart and mind. Think of the affection you long to receive. Think of your hopes that came to nothing. Think of your pain that no one knows. Think of the prayers that seem unanswered. Think of the joy, love, thanks and peace that have always sustained you. Think of the person you always wanted to be. (Silence) May the love of Christ be in you now.
Lord, in your mercy, hear our prayer. In the name of Christ, who suffered for us all. Amen.
THE LORD'S PRAYER
HYMN: I want to serve the purpose of God (SoF 260 Book 1)
BLESSING
May the blessing of God be with us in recognising Christ in the stranger, in serving each other's needs, in doing justice, loving kindness, and walking humbly with our God. Amen.