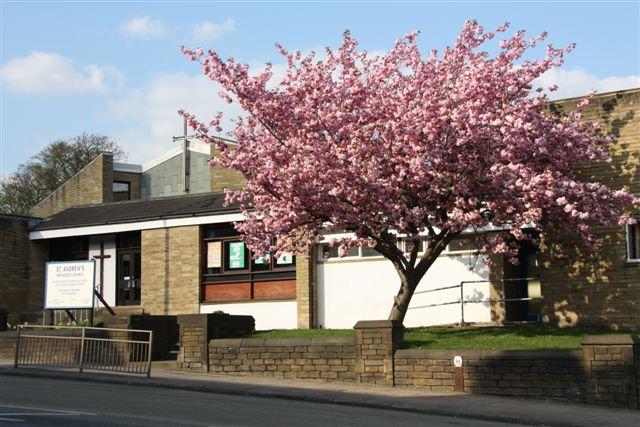 Welcome to
St.Andrew's
Methodist Church,
Halifax,
West Yorkshire.
Our Mission
St Andrew's Methodist Church seeks to share the love of God as revealed by Christ, through the Holy Spirit.
Our Purpose
We are a witnessing community of Christians seeking to share our faith. By our worship and work we proclaim the love of Jesus to all people.
Hello to everyone connected with the Church Family at St Andrew's Methodist Church – do hope and pray that you are all keeping safe and well. As St Andrew's Church Building is once again closed for the duration of this current lockdown please will you take some time on Sunday Morning around 10.30 a.m. to read through this Service – it will help to bring those who are able to Zoom the Service and those who are reading through the Service at home all closer together even though we are apart and scattered all around Calderdale during this time of isolation due to the Coronavirus – we are sure in the knowledge that we will all be joined together through the ongoing love of our Lord and Saviour Jesus Christ.
If you are able to join in the Zoom Service prepared for us by the Revd Terry Keen
PLEASE JOIN US ON ZOOM AT 10.30 A.M.
Rev Terry Keen is inviting you to a scheduled Zoom meeting.
A VERY WARM WELCOME is extended to you and we do hope that you are still keeping well and continuing to keep safe during the Covid-19 pandemic. By now you are all aware that we have gone back into 'National Lockdown' BUT we still continue to put our trust in the loving Lord Jesus Christ to comfort, guide and care for us as we move further into the year 2021. We are still exhibiting the picture depicting our 'Candles of Hope' in the Quiet Room Window which continues to remind us that our hope for the future is in the hands of our loving Lord Jesus Christ and we look to Him for our comfort and guidance.
Our Service today is being led by our minister the Revd Terry Keen and we look forward to what he will be sharing with us this morning.
CALL TO WORSHIP
O God, you know us inside and out, through and through. You search us out and lay your hand upon us. You know what we are going to say even before we speak. We praise you, O God, for the wonderful knowledge that whoever we are and wherever we go, you are with us.

HYMN: Come, let us join our cheerful songs StF 743

PRAYER
As the Psalmist acknowledged God's creative presence in such an intimate and personal way, so we affirm God's presence with us in an even more wonderful and personal way - in the relationship established through Jesus Christ and through the power of the Holy Spirit. So, we have even more reason than the Psalmist to praise and thank you, O God, for reaching out to us in Jesus and touching us with your Spirit; we turn towards you in gratitude, seeking to love as we have been loved. AMEN.

PRAYER OF CONFESSION
God of grace, in the days when your word was rarely heard and when visions were scarce, you broke into Samuel's life and called his name...and he said, "Here I am, speak, for your servant is listening" We confess that often so many voices clamour for our attention that your word is again hard to hear. Forgive us if you have called us to be prophetic witnesses or to use our gifts to serve you, and we have not heard, or have been unwilling to respond. Lord Jesus Christ, you met Philip and Nathanael on the road and said "Follow me" - and they did... We confess that we do not expect to meet you on the familiar roads we travel and so we fail to discern your presence or your call on our lives. Holy Spirit, you empower us to recognise and to respond to the invitation of Jesus to follow him, even when that means travelling on unknown and unfamiliar paths... Merciful God, take from us all that hinders our hearing your voice and fill us anew with the Holy Spirit that we may joyfully respond to Jesus' call on our lives. In Jesus' name we pray. Amen
READING: John 1: 38-51
SERMON
What are you looking for this morning? What is the reason you got up and switched on your desktop/tablet/laptop this morning? Did you expect something amazing to happen when you logged in to ZOOM this morning?

If you logged in this morning expecting to be entertained, then some of you will leave here disappointed. If you logged in expecting to be made to feel good and be noticed and coddled, then some of you will leave here disappointed. If you logged in expecting to have all of your felt needs met and have your self-esteem boosted, then some of you will leave here disappointed.

Each one of these encounters that these men had with Jesus was marked by one thing which was their expectations of who they thought Jesus was.
JOHN 1:38-39 (John and Andrew looking for a teacher)
John the Baptist sent John and Andrew to follow Jesus. And when John and Andrew ran up behind Jesus, what did He do? He casually turned and said, "What're you looking for?"

But how they addressed Him revealed their expectations. They addressed Jesus as "Rabbi."

Are you looking for a teacher this morning? Do you have questions that you just can't figure out on your own? Questions about life and death, good and evil, heaven and hell?

JOHN 1:40-42
After John and Andrew spent the night soaking up all the teaching of Jesus they could handle, they weren't tired. They were excited. They were so excited, they went and told Peter.

And what Andrew told Peter tells us a lot about what Peter was looking for. It tells us about his expectations. Andrew told Peter that he had found the Messiah.

Are you looking for a liberator this morning? Are you in bondage to a lifestyle you can't seem to overcome? Are you being held captive by habits and patterns and addictions that you just can't break?
JOHN 1:43-49
Have you ever noticed that every time we see Andrew in Scripture, he's leading someone to Jesus? And when he led Phillip to Jesus then Phillip turned right around and led Nathaniel to Jesus. And what Phillip told Nathaniel tells us a lot about what Nathaniel was looking for. It tells us about his expectations. Phillip told Nathaniel that they had found the One who fulfilled all the prophesies of the Old Testament.

And Jesus didn't disappoint him. This time Jesus didn't say, "Come and see." This time He said, "Come and listen to what I saw."

Are you looking for someone to reveal the mysteries of life to you this morning? Are you worried about what the future holds and just wish you knew what was around the corner for you? Jesus is telling you, "Come and see."

And when Jesus revealed just a little tiny mystery to Nathaniel, look what his reaction was in verse 49. He was so blown away that he put all the titles together. He called Jesus Rabbi. He called Him the Son of God. And He called Him the King of Israel.
JOHN 1:50-51
Is Jesus a teacher? Yes—He is the greatest teacher.

Is He a liberator? Yes—He is the only true liberator.

Is He a revealer of mysteries? Yes—He's the only true mystery revealer.

What are you looking for this morning? If you come to Jesus as your teacher or liberator or mystery revealer this morning, He'll show you He's so much more. He holds all knowledge and wisdom—He can teach you something. He has the keys that will unlock all your bondage—he can free you. He knows the end from the beginning—he can give you hope in the mystery. But He wants to do so much more. He wants to save you. Will you let Him save you this morning? Will you seek Him for who He is and not just what He can do for you this morning? Will you commit your life to Him this morning? His invitation is the same for you this morning as it was for the men in our passage. His invitation for you this morning is simply, "Come and see."
PRAYER
Lord Jesus Christ, we pray once more for your Church and for its ministry to the world. May it be a source of love, hope and comfort, compassion, challenge and inspiration. Lord, in your mercy, hear our prayer.
May your followers in every place find the faith and courage, vision and commitment, to live as beatitude people, poor and humble in spirit, merciful in attitude, pure in heart, hungry for peace and thirsty for righteousness, and so, as individuals and together, may your Church testify to your redeeming love and renewing power, speaking through word and deed of your care for all, your desire for justice, and your willingness to show mercy. Lord, in your mercy, hear our prayer.
Reach out through all you specially call to proclaim your name - those gifted as evangelists, those working abroad as missionaries or here in our own country, each seeking to share their faith and to make your love known. But reach out also through everyday believers such as us, ordinary Christians telling others about their experience of your goodness and about the difference you have made to their lives. Lord, in your mercy, hear our prayer.
Grant to all your people the inspiration of your Holy Spirit, and the light of Christ in their hearts. Help them to recognise the opportunities you provide, to respond to your guidance and so faithfully to proclaim the good news. Lord, in your mercy, hear our prayer.
For we ask it in your name. Amen.
THE LORD'S PRAYER
HYMN: And can it be StF 345

BENEDICTION
As you leave this time of worship may you be blessed by the knowledge that you are: enfolded in God's love, implanted with Jesus' love, inspired by the Holy Spirit's love.