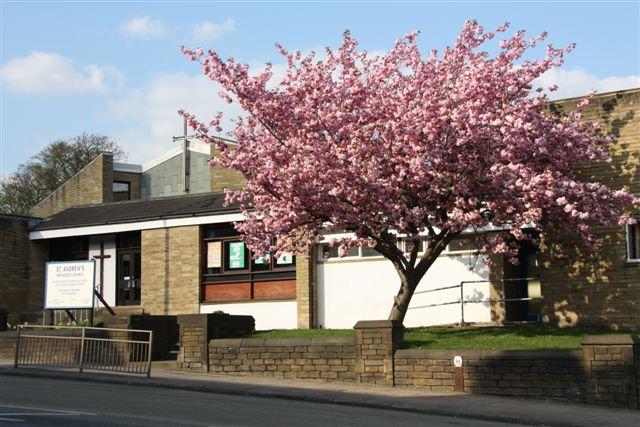 Welcome to
St.Andrew's
Methodist Church,
Halifax,
West Yorkshire.
Our Mission
St Andrew's Methodist Church seeks to share the love of God as revealed by Christ, through the Holy Spirit.
Our Purpose
We are a witnessing community of Christians seeking to share our faith. By our worship and work we proclaim the love of Jesus to all people.
t
WORSHIP HAS RETURNED TO ST. ANDREW'S CHURCH
It will be held under Covid-19 regulations and it will be very different, so please read the following carefully:
The total number who attend is strictly limited to 30. All MUST wear face coverings throughout the Service and BE PREPARED TO FOLLOW THE BEHAVIOURS ASKED OF THEM BELOW, TO PROTECT OTHERS. Places will be booked via telephone on a dedicated phone number 07716765168 - which will be activated from 9.00 a.m. until 1.00 p.m. on the Thursday and Friday before the Sunday. Those phoning will be advised of the needs for attending and will be re required to leave their name and contact number (with Hazel or Leah) to create the required Track and Trace Register of attendees. This register of details will be kept for 21 days only, after any service.
Those advised of having a place should arrive no sooner than ten minutes before the service begins and wait in their cars or at social distance markers within the car park, until invited into the church by the Steward. Entrance will be via the Side-chapel side door only and doors will be open.
Persons will be asked to hand-sanitise before the steward will direct them to a seat filling the seats available from the FRONT FIRST, family groups may move a seat to sit together as supervised by steward. The service will not include any singing but prayers can be said, however persons are asked to keep face coverings on and remain in their seat until after the service ends.
Once the service has ended a steward will invite persons to leave FIRST from the REAR of the church and to do so promptly, without social interaction within the building. It will NOT be possible to have any refreshments after the service.+++
This sounds a little austere but we are hoping to have live music even if we cannot sing 😊 and look forwards to a shared, face to face, group worship experience. Other practical points are that we have moved our usual seating aside to allow use of the plastic chairs, for ease of cleaning and moving chairs, and the only toilet access will be via the ministers vestry (look to stewards for guidance). No pew bibles or hymn books will be available but you are welcome to bring and use your own. We plan that each service may last not more than 35 minutes and we will not be using the link corridor, coffee bar nor church hall toilets.
As you can appreciate, details may change and whilst we will aim to update all as soon as we are aware, please bear with us as we move to adapt to the needs of these unusual times. Your prayers for all involved with St Andrew's - congregation and wider church links, are very much appreciated… Hazel & Leah.
SUNDAY OCTOBER 25TH 2020
TODAY'S SERVICE HAS BEEN PREPARED AND CONDUCTED FOR US BY MS VAL HEWARD
We give a very warm welcome to Val who is leading our Service this morning, it is really good to have her with us again today as she leads our fourth and last Service during Bible Month which is based on
the fourth chapter of the Book of Ruth
Call to worship
Jesus says "I have come in order that you might have life - life in all its fullness" (John 10:10)
This Sunday brings us to the last in our series on the Book of Ruth. We will read how Boaz, the kinsman-redeemer, marries Ruth and renews the life of Naomi and Ruth. We will also see how God has prepared the way for the birth of David, out of whom a righteous branch will come. This is our Redeemer, Jesus Christ, who renews our life.
Hymn StF 338 There is a Redeemer
Opening prayers
Thank you Lord God for the opportunity of worship,
for the freedom to be amongst your family
meeting together in your house,
and in the warmth of your embrace
Thank you that in worship we can put aside,
the uncertainties of this world and rest
upon the certainties of the Kingdom,
for your promises are not changeable
but immovable and eternal
Thank you that we can bring to your feet
all the hurts and fears that trouble us,
and leave them there,
knowing that your strength and assurance
are all that we require
Thank you that as we draw near in worship,
we are transported
from a world of concerns and fears,
to a place where we can be at peace in your presence,
find healing, wholeness and refreshment.
Amen
We are sorry for those times when we have not trusted you and followed your ways, when we have not had the courage to take a risk and follow the direction you have set for us. Forgive us and help us, through your Spirit, to accept your forgiveness and testify to your love by living life to the full. Amen.
Introduction
Rachel Starr, who wrote the resources for Bible Month, attributed each chapter to one of the main characters, Orpah, Boaz, Ruth and Naomi, each of whom brought very different qualities to the story. Although Chapter 4 seems to be about Boaz and Ruth, she attributed it to Naomi.
Naomi showed wisdom at many points in the story. Having returned to her homeland Naomi wisely introduced Ruth to her new environment and coached her on proper behaviour, masterminding Ruth's contact with Boaz. She learns in the midst of great suffering and adversity of God's goodness and mercy. A life lived with God is one where His wisdom becomes part of our inner instincts. Wisdom which comes from the Holy Spirit to guide our thoughts and attitudes, our words and actions.
Ruth and Naomi have a special relationship; all the way through this story we can see how God is acting through Ruth - the divine and human coming together, overcoming the emptiness in Naomi's life. Ruth refuses to leave her, and comes with her to Bethlehem. For her part, Naomi does not passively accept the misfortunes of their lives, but seizes the opportunities given to rebuild them. As we come to the last week, we see how even within the narrow confines of her own story, Naomi is shown to be Ruth's 'companion in arms', working out in harmony with God their 'redemption' through a kinsman-redeemer. This is a term given to a relative who volunteered to take responsibility for the extended family. It was the custom, in Israelite culture, that the inheritance was passed to the male relative. This meant that widows, such as Naomi and Ruth, would be destined to live in poverty unless a kinsman-redeemer married them.
The concept of a redeemer is a constant theme throughout the whole of the Bible. From the time when humanity disobeyed God in Genesis, God has been redeeming his people. First in bringing them out of bondage in Egypt through Moses, then out of exile and oppression through the prophets like Isaiah and Jeremiah. Finally he came to live amongst us and bring us back into His family through His Son Jesus Christ – from despair, to a new life, to life in all its fullness. Let us now hear how Boaz redeems Ruth and Naomi from a life of poverty as we listen to today's reading.
Reading Ruth chapter 4
Life in all its fullness
So today we heard how Boaz the redeemer, saved Ruth and Naomi by sitting at the town gates and negotiating a contract. To our twenty first century minds, this probably seems to be a strange way to propose marriage. However, Boaz took a risk by doing this, because he was making public his interest in Ruth before they were officially betrothed. In the first three chapters, Boaz seems quite a staid character, but in chapter four he is a risk taker. He took a risk offering the land to his relative, because he may have accepted the offer and taken Ruth with it. Boaz also took a risk in marrying a childless widow because the first child would not be his, but her late husband's. This shows us that you cannot redeem without taking a risk, of rejection or humiliation. We seem to be given the impression that Boaz is considerably older than Ruth, who is a young, lively character. However, taking these risks have led him to what we hope will be a happier and more fulfilled life as God works through Ruth and Naomi to redeem all three of them from the despair we see in Chapter 1 to the life in all its fulness of Chapter 4. And this redemption is not a one off event, something which Boaz does and then walks away, it is a lifelong commitment to the welfare of Ruth and Naomi.
What risks do we take for our faith? Do we ignore God's call because He is asking us to do something that is a little difficult or inconvenient, or because we don't like the look of the one God has chosen to help us because they are too staid? Or are we like Naomi, seizing the opportunity to take a risk and step into the unknown, knowing that God is with us always.
As we have journeyed through Ruth, I hope that you have been able to see how circumstances have changed. We have moved from despair and emptiness in chapter 1 to new life and hope in chapters 2 and 3. We have concluded with life in all its fullness as the elders have spoken blessings over Boaz, Ruth and Naomi in chapter 4. This story has revealed the love and kindness of Ruth, Naomi and Boaz. It has also shown the trust they have in God. And trust is vital, because if redemption involves risk, it must also involve trust. Those who are being redeemed have to trust that the redeemer will succeed and trust that the commitment is total, like a marriage, and that God will be with us always, because God is the one who redeems us.
When we look closely, we can see many similarities between the story of Ruth and Naomi and the story of Mary and Jesus. The town where Ruth lived is the same place where Jesus was born. The fields that Ruth gleaned are the same fields where the angels told of the Good News. We see in Ruth the same virtues of Mary, who with complete and utter obedience became the mother of Jesus. Like Naomi, Mary acknowledges the full wonder of God's blessing in the words of the Magnificat. Those same words can be our prayer and our song of praise as God takes us, ordinary people, from despair to a new life, to life in all its fullness. God redeemed his people with that overwhelming steadfast love and mercy that cost him greatly. God has redeemed each one of us and wants us to renew our life, so that we can move from despair into fullness of life. All we have to do is accept and trust in God, like Ruth and like Mary, the mother of Jesus, our Lord and Redeemer.
So, this final chapter brings us to think about life and hope and points us to Jesus, who promises to be with us, each and every day through His Holy Spirit. As children of God we become a part of His family - the Church, with all our individual faults and failings! And he works through us, just as he worked through Naomi, Ruth and Boaz, bringing hope out of despair, and inspiring commitment to a new way of life. All we have to do is trust the redeemer.
Prayers of intercession
Lord's Prayer
Hymn StF 186 Tell out my soul
Blessing
Remember all God has done. Rejoice in all he is doing. Receive all he shall yet do. Put your hand in his, the God of past, present and future, and walk with him wherever he may lead, knowing that he will walk with you this day and always.
Let us share in the grace together
May the grace of our Lord Jesus Christ, the love of God and the fellowship of the Holy Spirit be with us all evermore…Amen