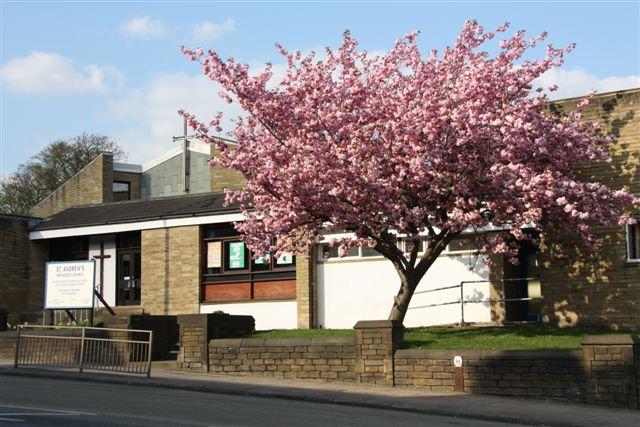 Welcome to
St.Andrew's
Methodist Church,
Halifax,
West Yorkshire.
Our Mission
St Andrew's Methodist Church seeks to share the love of God as revealed by Christ, through the Holy Spirit.
Our Purpose
We are a witnessing community of Christians seeking to share our faith. By our worship and work we proclaim the love of Jesus to all people.
---------------------------------------------------
Hello to everyone connected with the Church Family at St Andrew's Methodist Church – do hope and pray that you are all keeping safe and well. As St Andrew's Church Building is once again closed for the duration of this current lockdown please will you take some time on Sunday Morning around 10.30 a.m. to read through this Service – it will help to bring those who are able to Zoom the Service and those who are reading through the Service at home all closer together even though we are apart and scattered all around Calderdale during this time of isolation due to the Coronavirus – we are sure in the knowledge that we will all be joined together through the ongoing love of our Lord and Saviour Jesus Christ.
A VERY WARM WELCOME is extended to you and we do hope that you are still keeping well and continuing to keep safe during the Covid-19 pandemic and 'National Lockdown'. BUT even through lockdown we still continue to put our trust in the loving Lord Jesus Christ to comfort, guide and care for us as we move further into the year 2021. We continue to exhibit the picture depicting our 'Candles of Hope' in the Quiet Room Window which continues to remind us that our hope for the future is in the hands of our loving Lord Jesus Christ and we look to Him for our comfort and guidance.
..........................................................................
Today our service is being led by Rev Terry Keen. We look forward to what he will be sharing with us this morning.
PRAYER OF APPROACH
We acknowledge you, O God, as creator and as liberator. You are the One who brought the captives out of Egypt and delivered them from the oppression of slavery. You gave laws which shaped how people were to relate to you, to each other and to the whole environment. You implored people to worship only you, knowing that whatever was put in your place would become the object of idolatry - would become the priority of people's lives. In this time of worship, help us to focus on you, O God, as the priority of our lives. Remind us of your steadfast love revealed so clearly in the new commandment of love which Jesus disclosed with his life and, as we especially remember in this period of Lent, with his death. Speak to us anew as we offer this prayer and our worship in Jesus' name and for his sake. Amen

HYMN: Praise to the Lord, the almighty

PRAYER OF CONFESSION
The word of the cross is the wisdom of God to those who are saved. Merciful God, we confess our bewilderment over the presence of any wisdom at all in such a dreadful act as the crucifixion of Jesus, your Son, our Lord. Each year as we hear the story again, we wonder - why did it have to happen?
It seems as though evil triumphed in this wretched deed.
Yet, when we know the outcome of the crucifixion, we realise that it was an act of powerful and sacrificial love, and that in the end, good did triumph over evil, life defeated death.
And so, forgive us, O God, when we become so influenced by the wisdom of the world that we demand signs and seek intellectual certainty as proof of your existence.
Forgive us when we get caught up in the quest for achievement and power, forgetting that Jesus' power was made perfect in weakness. Forgive our reluctance, O God, to proclaim with our lips and our lives that the crucified Christ is Lord of our lives and help us to empty ourselves of all that hinders such proclamation of our faith.
Silent reflection on these words
Have mercy on us, O God, and strengthen us to do your will. This we pray in Jesus' name. Amen.
BIBLE READING: John 2:13-22 Jesus Cleanses the Temple
HYMN: From Heaven you came.
SERMON - WHAT JESUS WANTS IN WORSHIP
What does worship mean to you?
God is concerned about our attitudes in worship. We've become preoccupied about the expressions or forms of worship. The truth is that any expression of worship is empty if there is no inner attitude to match. If all we have is a form of worship, perhaps out of habit, then there's no offering to God and therefore nothing acceptable to Him.
We are not here to be entertained as many seem to think today. So often we hear people say that they are not going to church a particular church because the worship there does nothing for them. Worship is not like attending a concert or show where we are inspired by the music and words. Worship is not even about meeting our spiritual needs. Worship is to do with encountering a holy God. It has to do with listening and obeying His word, submitting our wills to his, and surrendering to him.
Ritual in worship is important – it links us to our heritage. It can, however, enable us to cover up what is actually in our hearts as we gather to worship. Whether we are singing Wesley's hymns or mindlessly repeating a chorus if worship is not done with a repentant and grateful heart, and an expectancy of prayer then it is meaningless.
Read: Isaiah 1: 11-20
Verses 11-15 contain harsh criticism of Judah's worship practices. All that they had continued to do, without righteousness in their daily lives, was futile.
Wash yourselves, cease to do evil, learn to do good (verses 16-17) — their condition need not be permanent.
Verses 18-20 are an invitation and a warning. They could return to God and eat the good of the land, or they could refuse and rebel and be devoured by the sword.
Rituals without meaning. Why did the prophet blast the people about their religious observances? It was because the people had forgotten the spirit of the law, which was designed to promote righteous living and a guileless relationship with God. The sacrifices, rituals, and feast days had been given to them as a means to celebrate their covenant with God and to be restored when they strayed from that covenant. Instead, their relationship with God had retreated into the background; and rules, regulations, and rituals had come to the forefront. As far as God was concerned, they could forget the rituals until they washed themselves, learned to do good, to seek justice, to rescue the oppressed, to defend the orphan and plead for the widow (verses 16-17).
Here is a story of a man called Ted. It comes from a book titled "Called to action" by Fran Beckett.
Ted had been in the same church for most of his sixty-five years. He grew up through Sunday School, then the teenage church organisations, and eventually joined the church as an adult. As he grew older, he took on various responsibilities, always retaining a special affection for the building and all it symbolised for him. A few years ago, changes began to occur within the life of his church. No longer did all those who attended wear their Sunday-best clothes. Many of the younger men dispensed with suits and ties, replacing them with jeans and open-necked shirts. No longer was there the same need to peer around extravagant hats in order to see the preacher. Hats became a phenomenon that was largely confined to weddings. There seemed to be far less respect and reverence than there had been in the past. The sense of solemnity and occasion during the services was elusive.
Poor Ted found all this difficult to cope with. He resented the incomers with their casual ways. Strong prejudices against lateness to meetings and what he regarded as irreverent attire emerged in regular complaints to the leadership. He couldn't understand why the format and content of the services had changed, why the language used was less formal, and the times altered to accommodate people too lazy to get up on a Sunday morning! His church was being spoilt and all that he held dear trampled upon for the sake of those who came in from the outside.
A church that is prepared to change to follow the will of God will be a warm and welcoming place to those who have accepted God's invitation to join in. It will enable them to feel at home whatever their condition, physically, mentally or spiritually. And as a result, everything that takes place in that church will glorify God.
So why don't people go to church? They often reply that church is just too boring. While I recognize that sometimes a church service can seem dull, especially to a non-Christian, I want to suggest this morning that true worship is anything but boring. The very essence of what worship is does not allow us to be bored. When we come before the majestic God of the universe, who has created everything and has done amazing things in our lives, we can't help but break out into adoration.
What do you want when you go to worship? People want a particular size of congregation, a special kind of building, a unique order of worship, and personal preferences of elements for the worship. Think for a moment what you like when you go to worship.
From Psalm 95 we realise that worship should always incorporate two elements: rejoicing and reverence. And, perhaps most importantly, worship must lead to a response. If we don't respond, we risk becoming hardened before Him.
What did Jesus want when He attended worship? In the Gospel reading we see that John tells what Jesus didn't want resulting in the cleansing of the Temple. From this event in Jesus' ministry, we can see what He wants in worship.
JESUS WANTS RELATIONSHIP ALONG WITH RITUAL.
The Jews practiced religious business without a sense of the presence of God. They prayed, offered sacrifices, and participated in religious festivals (see 1 Cor. 14: 40). Worship involves an encounter with the Lord. Ritual of any type means little without a worshipper's relationship with God.
We can get so caught up in our formality of worship that we fail to really worship!
When was the last time our worship brought us into the presence of God and quickened our pulse and affected our lives?
JESUS WANTS SELF-GIVING INSTEAD OF SELF-SEEKING.
The religious activities in the Temple during Jesus' day were to sell animals and to exchange money for a profit. Jesus said, "Make not my Father's house a house of merchandise" (2:16b). Many served God for what they could get from it.True worship serves God because He is God. True worshippers do not worship to get but to give.
JESUS WANTS INCLUSION RATHER THAN EXCLUSION.
The temple had an outer Court of Gentiles. God wanted His people to be a light to the nations. In this place of the Gentiles, they had erected places to exchange money and to sell animals. The sense of mission to the Gentiles had been lost.
Jesus wants sinners to be included in worship. When God's people exclude others, worship needs to be reformed.
We are not too good for anyone who wishes to come and worship with us.
Instead of seeking what you want in worship, think of what Jesus wants in worship.
PRAYERS OF INTERCESSION

THE LORD'S PRAYER
HYMN: When I survey the wondrous cross

BENEDICTION:
Go from here today, empowered by the wisdom of God, the love of Jesus Christ, and the energy of the Holy Spirit to witness to the foolishness and the glory of the cross.