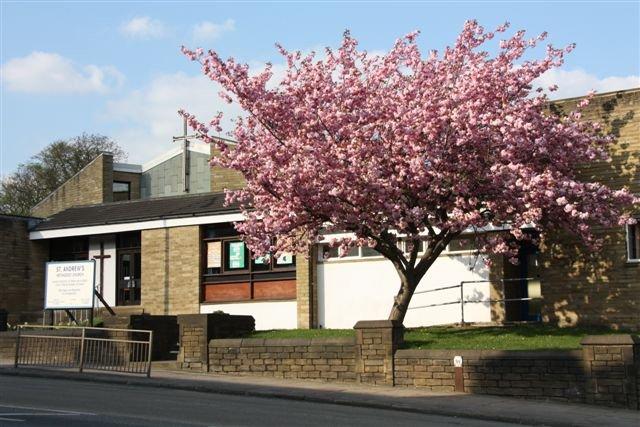 Welcome to
St.Andrew's
Methodist Church,
Halifax,
West Yorkshire.
Our Mission
St Andrew's Methodist Church seeks to share the love of God as revealed by Christ, through the Holy Spirit.
Our Purpose
We are a witnessing community of Christians seeking to share our faith. By our worship and work we proclaim the love of Jesus to all people.
ST ANDREW'S IN THE SPRING
TODAY'S SERVICE HAS BEEN PREPARED FOR US BY
THE REVD TERRY KEEN
WELCOME
PRAYER OF APPROACH
We, who so often take the wonders of creation for granted, welcome the opportunity to offer our worship to you, O God. We gather here this morning to worship and to praise you, glad that we live in this country filled with such diverse and beautiful examples of your creation. Yet, joyful noises are not easy for everyone to make, as we are all experiencing great difficulties in our families and our everyday life. Some are burdened down with the stresses of daily living and all that involves; some wearied from tasks of serving others; some worried over the state of the world and where that is all leading. Speak to us all, O God, in the stillness of this time and remind us of Jesus' willingness to take our burdens upon himself and to learn from him - to experience his gentleness and steadfast love for all. Jesus also offers us his joy so that our joy might be complete. Confident in these promises, we offer this time of worship to you, O God, praying that it may reflect our praise and thanksgiving for the gifts of creation and for all that Jesus has done for us. This we pray in his name. Amen.
HYMN: Praise my soul the King of Heaven STF 83
BIBLE READING: Acts 1: 6-14
SERMON
Last words are important words. In a court of law deathbed statements, even though they are unsworn and the person no longer present to validate them, are admissible as evidence.
We normally take very seriously the last words that our loved ones have uttered to us; we turn those words over in our minds, we consider them carefully, we store them up in our hearts and ponder them
If the last words of a loved one to us are uttered in the form of a declaration if they are uttered with any seriousness - in the knowledge that soon time and space will separate us, if they ask of us anything, we are inclined to do everything in our power to both remember those words and to do that which was asked of us.
Last words are important words.
Knowing that - today I want to consider with you the last words of Jesus.
If you ask most people what the last words of Jesus were, chances are they might tell you that his last words were those said from the cross.
The last words that Jesus uttered while still on earth in physical form while still walking about in his resurrection body were these:
"It is not for you to know the times or dates the Father has set by his own authority. But you shall receive power when the Holy Spirit comes on you; and you will be my witnesses in Jerusalem, and in all Judea and Samaria, and to the ends of the earth."
You shall receive power, you shall be my witnesses…
We use the word witness in a two-fold sense. The Christian gospels themselves are early Christian preachers' attempts to witness to what they have seen and heard.
In the gospel, we aren't just getting information and data about Jesus - we are hearing a story about Jesus and how his life touched the lives of the people around him.
And as with any good story we find we are drawn into it, just by listening.
Witnessing is most often done through loving care and personal story telling, through the kind of thing that you do all the time…

A phone call when a friend loses a loved one…
a cup of coffee with a neighbour who is going through a difficult time…
a visit with a relative who is in a nursing home or hospital…

And in the course of the visit, over that cup of coffee,

you express your concern
you offer your prayers…
you share the hope that you have found in God…

As believers in Christ - as people baptized by water and by the Spirit we have the power, a power given to us by God above, to make a difference out there: to bring people to the knowledge and love of God through what we say and do in their presence, through the story we have to share - in love.
Why do you stand looking into the sky? That same question might just as well be put to us…
Someone once said, "Too many Christians are no longer fishers of men but keepers of the aquarium."
I take that to mean that we are more concerned about the Church than we are about touching the lives of other people, more concerned about preserving our "religion" than we are about helping people discover the source of wholeness, the fountain of living water that wells up to eternal life.
Let us ponder seriously the last words of Christ, let us store them up in our hearts and let us go forth as witnesses to the faith - let us go forth and tell our story so that others might believe.
HYMN: Christ is alive! Let Christians sing StF 297
PRAYERS OF INTERCESSION:
Lord, in your mercy, hear our prayer.
THE LORD'S PRAYER
HYMN: From the breaking of the dawn STF 156
BLESSING:
May the protection of God surround you, the joy of Jesus infill you and the harmony of the Holy Spirit resound in and through your life. Amen.