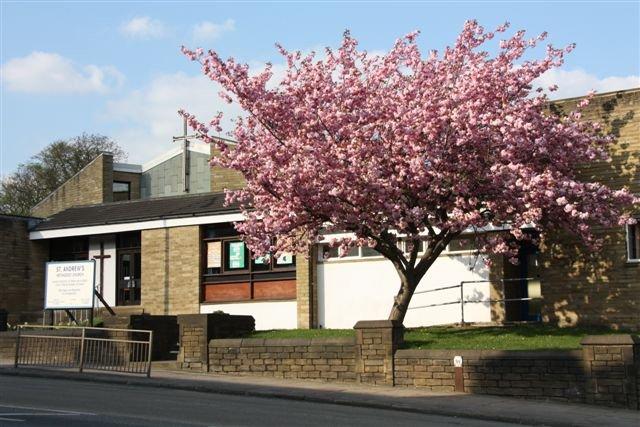 Welcome to
St.Andrew's
Methodist Church,
Halifax,
West Yorkshire.
Our Mission
St Andrew's Methodist Church seeks to share the love of God as revealed by Christ, through the Holy Spirit.
Our Purpose
We are a witnessing community of Christians seeking to share our faith. By our worship and work we proclaim the love of Jesus to all people.
ST ANDREW'S IN THE SPRING
PLEASE JOIN US ON ZOOM AT 10.00 A.M.
You are invited to a scheduled Zoom meeting.
If you would like to join, either contact a church member or use the contact form on this site
TODAY'S SERVICE HAS BEEN PREPARED FOR US BY
MRS STELLA CHRISTIE
Call to Worship
God who feeds us,
we come to you with our weariness
from our daily tasks,
our hunger for your word
to strengthen us,
our pains and grief's
that long for your healing,
and our overwhelming sense
of the world's need.
We ask that you will meet us here.
Give us renewed strength for living
and the courage to share the gifts
of your love with a needy world.
Generous God,
we give you thanks for all that
you give to us.
For the pleasure of tasty food,
for the refreshment of cool drinks,
for the welcome at your table.
We thank you that you meet us
when we are tired and weary,
that you never send us away empty,
and that in your love
there is always enough.
We praise you that your provision
never runs out,
and that you are always ready
to meet us in love.
Amen
Hymn: StF 1 All people that on earth do dwell
Prayer of Confession
Extravagant God
you offer us so much,
and yet often we treat your gifts selfishly
or lightly.
Forgive us when we chase after
worthless trivia,
or do not value the riches of your gospel.
Forgive us when we cling tightly to what
we have and do not share it
with others.
Forgive us when we are anxious and afraid,
and do not trust you to meet our needs.
Faithful God, forgive us.
Help us to value what you offer,
to share it freely with others,
and to live in joyful risk for your kingdom.
God, who is faithful and just,
assures us of pardon and peace.
Thanks be to God,
Amen
Bible Readings:
Isaiah 55:1-5
Matthew 14:13-21
Address
Churches are known for their food – lunch clubs, Messy Church, celebrations and get togethers are all marked by meals, or even tea and buns! We are also known for charitable giving and supporting food banks. It is part of Christian heritage – the eucharist has always been the heart of our services.
In agricultural societies most work was to produce food. Life's great risk was that there wouldn't be enough of it.
Famine is not a stranger to many now and in the past. It was endemic in this country until Tudor times. When 90% of the population live off the land,
• too much or too little rain,
• too much or too little cold,
• too much or too little sun,
has huge consequences.
In this country it wasn't until the agricultural revolution in the eighteenth century that regular food shortages ceased. Food dominated the historical world.
It hardly surprising then that we have so many sayings about food.
Plain things are "bread and butter";
That person who is a sandwich short of a picnic;
Loved ones can be - "honey" or the Apple of our eye;
Warm as toast, or cool as cucumber
You can have a complexion of peaches and cream, or be as wrinkled as a prune.
And how come we can't see a sausage?
As well as that we get:
If music be the food of love……
Then how about:
Food for thought.
The Isaiah passage (Isaiah 55:1-5) is full of food metaphors. He is speaking to the exiles in Babylon who have been told they can go home. But they hesitate.
• Perhaps they are frightened of leaving people and places they know.
• Perhaps they are worried about the journey.
• Perhaps they are troubled that they are not doing the right thing by going.
• Perhaps they are scared that the place they are going to will not live up to their expectations.
Isaiah mingles the image of real food with food as an image of something more satisfying – God's new future. The choice for the exiled Jewish community becomes clear. They can respond to God's call and return home, or thy can remain and live empty lives in Babylon.
They are reminded of the Exodus story of a land flowing with milk and honey. A similar promise is now being made to those willing to return. Whilst there is work and food to be had in Babylon, there's no real satisfaction in them. The prophet urges them to accept the freedom to return to Jerusalem, putting their trust in God; to join together and go! The promise is of a much more worthwhile life. It is a great invitation to all those who are spiritually hungry and thirsty.
The reading from Matthew (Matthew 14:13-21) has actual food, as well as metaphorical food. The disciples are looking at the practical problem of how to physically feed this huge crowd. They report back to Jesus and suggests that he sends everyone away to just find food. Jesus knows that He has already fed their minds, and spirits. Now he suggests that the disciples feed the people.
It is significant that Jesus first tells the disciples to feed the people. He could have bypassed them and simply commanded the stones to turn into bread, but He took their tiny contribution, blessed it, broke it and gave it to them, and encouraged them to keep going. Having stepped out in faith with the few handfuls they started with, the disciples saw God's provision multiplied until there was not just enough, but an abundance for all.
Matthew was writing for a tiny sect struggling to hold together their Jewishness with their gospel faith. They were conscious of their need, and the inadequacy of their resources. They feared for their survival as a community and for their individual lives. This miracle would speak to them of the messianic banquet, telling them that the new age of the kingdom had started. God was able to provide the resources they would need – they would understand the message of encouragement and affirmation.
At the moment many of us feel beleaguered. We know our resources are stretched and my well be inadequate for the immediate future. We are not sure what will happen next and what we should do for the best.
Jesus promises that if we simply offer what we have, God will take it and use it in ways beyond our imagination.
What feeds us at the moment, when we cannot meet together and cannot take communion? We are finding ways of being together; new ways of being church; keeping up with one another in phone calls, newsletters, WhatsApp, helping with practical tasks, having tea in the garden (or conservatory).
For many, prayer life has become more focused; certainly the Prayer Vine has been used much more. We have been reading more, studying biblical texts more, watching different services, on TV, on line and on the radio. All of these nourish us.
Just as the exiles in Babylon were promised food and drink, and the renewal of God's presence, so we are finding the resources we need, and the continuation of God's love. Even in a time of stress and anxiety, God provides food for our souls, and we are called to
offer what we have, to our communities, knowing it will be used in its fullness, as we will be.
Jesus gives us food for thought, food for our bodies, food for our minds and food for our souls.
Amen
Hymn: StF 324 In a byre near Bethlehem
Prayers of Intercession
God who feeds your hungry people,
we bring you our prayers for our church and our world.
We pray for those who experience physical hunger:
for farmers surviving on meagre crops and low prices,
For the areas of the world with turbulent weather where famine kills,
for mothers struggling to feed their children,
for families getting by on cheap food and cut-price bargains.
God, who feeds your people,
help us to work for a fairer sharing of the world's resources.
We pray for those for whom food means difficulty rather than enjoyment:
for those who cannot eat because of illness,
for those who experience eating disorders or a loathing of their bodies,
for those who eat to mask loneliness or unhappiness.
God who feeds your people,
help us to delight in the simplicity of food.
We pray for those whose hunger is not physical;
for those longing for companionship and friendship,
for those searching for meaning and purpose,
for those reaching out for an end to grief and pain.
God who feeds your people,
help us to welcome others with the good news of your gospel.
We pray for ourselves, who seek to live in your way;
when we are weary and dispirited,
when our resources seem stretched to breaking-point,
when we hunger and thirst for a sense of your presence:
God, who feeds your people,
renew us with courage, trust and vision for the future.
Amen.
The Lord's Prayer
Hymn: StF 465 Guide me O thou great Jehovah
Blessing
Go out into the world
rejoicing in God's generous love;
and may you be fed by the living God,
who makes, feeds and sustains the world.
The blessing of God, Father, Son and Holy Spirit, be with us this day and always.
Amen