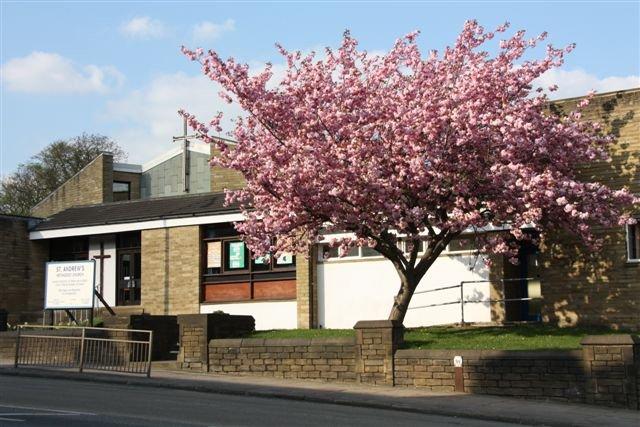 Welcome to
St.Andrew's
Methodist Church,
Halifax,
West Yorkshire.
Our Mission
St Andrew's Methodist Church seeks to share the love of God as revealed by Christ, through the Holy Spirit.
Our Purpose
We are a witnessing community of Christians seeking to share our faith. By our worship and work we proclaim the love of Jesus to all people.
ST ANDREW'S IN THE SPRING
PLEASE JOIN US ON ZOOM AT 10.00 A.M.
You are invited to a scheduled Zoom meeting.
If you would like to join, either contact a church member or use the contact form on this site
TODAY'S SERVICE HAS BEEN PREPARED FOR US BY OUR MINISTER
THE REVD TERRY KEEN
CALL TO WORSHIP:
Let us remember that we are in the presence of God, who knows us and knows our needs, and who loves us with a love that is both gentle and strong, unchanging and eternal.
(Pause)
Jesus said: 'Come to me, all you that are weary and are carrying heavy burdens, and I will give you rest. Take my yoke upon you, and learn from me; for I am gentle and humble in heart, and you will find rest for your souls.'
Jesus said: 'I have come that you may have life, and may have it in all its fullness.'
Confess your sins to one another and pray for one another, so that you may be healed. The prayer of the righteous is powerful and effective.
O living God, you are reaching out to us in love, so draw us near to yourself here, now, that we may know your presence and find joy in the peace that you have given us. For Christ's sake we ask it. Amen.

HYMN: Through all the changing scenes of life (StF 638)

INTRODUCTION TO BIBLE READING AND SERMON

BIBLE READING: John 5: 1 – 9a.

CD Track: The Life by Michael Card, track 3 The gentle healer.
Soon after the discovery of the New World, Europeans began searching for the "Fountain of Youth."
In the year 2020, not much has changed. We're still looking for the fountain of youth by having their faces lifted and tummies tucked. The goal is to look as young as you can so you can feel good about yourself.
Two millennia ago, Jesus strolled to a place called Bethesda. There He found a scene that would repulse many of us.
Lying and sitting around this pool were many men and women, and maybe even children. They believed that every time the water stirred in that pool healing powers would appear and whoever touched the water first would find healing.
Once a rumour got started it was hard to stop it, and quite possibly someone may have been healed one time and now it was difficult to get people to leave the pool.
Jesus approaches a man who had been ill for the past 38 years and asked him a question that seems to astound our senses — "DO YOU WANT TO BE MADE WELL?"
On the surface this is a ridiculous question.
When Jesus asks the man if he WANTS to be made well, the word WANT takes this man to a deeper level. We don't see it in the English, but Jesus is literally asking the man 'you must not only be willing to be made well, but you must also show me by your actions.
Today we are asked the same question — "DO YOU WANT TO BE MADE WELL?"
Everybody looks happy, so we assume everything is okay.
In the face of all that is going on around us, the Word of God in Matthew 11:28-30, Jesus said, "Come to me, all you who are weary and burdened, and I will give you rest. Take my yoke upon you and learn from me, for I am gentle and humble in heart, and you will find rest for your souls."
This is not to say that He will heal every problem immediately if we just have enough faith. Jesus clearly said that we will have trouble in this world. But He can help us through our worst problems only if we trust in Him.
We hear the promises of Jesus, and our hearts run out to them and we claim them. But do we really look for the healing in unexpected places as the Jew left for dead on the Jericho road found it?
Reflection on the Good Samaritan
Where do we look for the healing of our wounds: physical, emotional, spiritual, the healing of memory?
Do we miss what the healing Christ offers us because we are not prepared to receive it in unexpected ways?
That is the question that was confronting that man on that day, and it is the question which confronts us today, and honestly, it may be everyday. DO WE REALLY, REALLY WANT TO BE MADE WELL? DO WE REALLY, REALLY WANT TO BE HEALED?
You see, if that man at the well of Bethesda got well and if we get well, then our lives MUST change.
In the same way that man who couldn't walk, was now told to do 3 things -- stand up, pick up your mat, and walk.
Now, I don't know about you, but if I had been unable to use my legs for 38 years, I may have some doubts about my ability to even stand, let alone to walk. "I can't get up? I've been unable to walk for 38 years." But Jesus says in effect, "You can, because I say so."
But the command to get up is not the only command, for Jesus removes the possibility of relapse. He says, "Get up and take up your bed!"
PRAYERS OF INTERCESSION

THE LORD'S PRAYER
HYMN: God is working his purpose out (H&P 769)
BENEDICTION:
May God who takes with you the pilgrim way, lead you in trust and peace all your days, that, whether on the plains of joy or in the vale of shadow, you may know the touch of tenderness and grace which makes us whole. Amen.